No Comments
Manchester Orchestra – Simple Math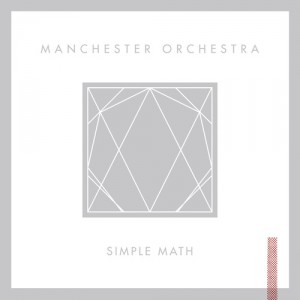 Manchester Orchestra has grown. A simple statement with an undeniable truth, the band has continued to evolve with each album, from their debut, I'm Like a Virgin Losing a Child, to the most recent release, Simple Math, which has become a completely new sound, fuller, more intelligent and as much as I hate to use this expression, just pure Rock n' Roll.
In previous attempts, vocalist Andy Hull has used many themes and concepts on their works, the primary one being religion, sometimes for,sometimes in frustration, sometimes just in pure anger at God, I must confess it's incredibly refreshing to hear someone not afraid to speak how they truly feel on this matter, it's real.
If you've listened to Manchester's previous works before,upon the first taste of this album, it might catch you off guard, but fortunately I'm here to guide you through this, hold your hand,and give you a quick breakdown of Simple Math.
As far as winners on this album, there are so many,sometimes it feels like Hull is a surgeon, using his words to dissect and cut his family, friends and God. That sounds cruel, but it's the truth, make sure you check out the tracks Deer, Mighty, April Fool, Apprehension and Leaky Breaks. Those tracks are the true stand-outs on this album for me, but with all winners, there have to be some weak points..
Pensacola is a song that seems to have so much potential, it starts off very strong, but they lose me with the gang vocals that seem out of place in the track, and weak finishing lyrics.
Virgin is by far my least favorite track on the album, I went into this trying to give the least biased view, but then since this is my review, I'm going for the glory. I'm the biggest fan of this band I have ever met ,and this song just straight up sucks. Let's be serious, can we just go ahead and say the whole children's choir chorus effect is overdone? Because I'm sick and tired of hearing 10 year olds singing lines about blood and building and sacrifice, it's just not cutting it for me anymore.
Upon further review,those are truly the only two weak songs,everything else is typical Manchester Orchestra brilliance. The lead single and title track, Simple Math, is one that you will have on repeat, the strength in his vocals, and just the complete sound of the band is something you won't forget.
As a whole, this is a step up. It took me quite a few listens to accept this, but the band has shown a large increase in musicianship, with much more thriving guitar parts, heavier drums, and overall just a complete album. You don't leave wanting more, you feel drained, excited, mentally and emotionally exhausted after listening.
Simple Math is well, Simply incredible.