One Comment
Portage – Landings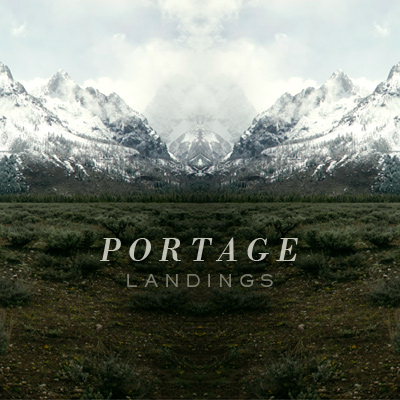 Cold winters won't keep Portage from warming up your speakers. The Minneapolis four-piece has just unveiled their sophomore album, Landings and it is a first-rate release.
Landings is bold when it needs to be, but much like finely aged whiskey, it's also characteristically mellow and easy to savor. There are bluesy guitar riffs throughout and ample use of piano, harmonies, and a tinge of brass instrument for good measure. Overall, the indie album shows quite a bit of range and we hear their live show is quite good as well.
We absolutely love the track, Rainbow Bridge as it just seems to hammer at your ears with such purpose. It could also be because we're suckers for the triple beat laid down by drummer Adam Rosenthal.
By and large, the album is a soulful and contemplative effort worthy of a spot in your collection.
TheKnifeFight: Where did the name Portage originate?
Trent: Well, the term "portage" means to carry a canoe on your shoulders over land to get between two bodies of water. Kind of a very Minnesotan term. But it also represents putting in a lot of effort and a lot of struggle to get from where you are to where you'd like to be. It's a very transitional time of life for myself and other members of the band (graduating from college, moving to new cities, ending/starting romantic relationships, trying to find work, etc.) and I think our name definitely reflects this challenge as a band and as individuals.
TKF: If it's even possible to describe in words, could you tell us how you felt and what you did on November 27th, the day Landings was released?
Trent: We're super proud of Landings, and it was great to finally put everything out there. Our Minneapolis release show a few days later (Dec 1st) had such a massive, supportive turnout and was one of the most cathartic shows I think I've ever played.
It's funny, actually. When we released our first album, The Unsalted Sea, we were just a 2-piece duo. Now when we play live we usually have 6 people on stage. So there was a tendency for people to listen to our softer, folksy recordings, peg us to be a quiet little acoustic project, and then be surprised when they come to see us and we have two drummers rocking out. This new album really represents who we are, currently.
TKF: What is your favorite thing to do that doesn't involve music?
Trent: I can't really speak for the other guys, but I think I want to try anyway. Adam (drums) is usually working on some project in our garage. He likes to build lamps and bed frames for his nephews. Jason (bass) is doing a lot of construction for work right now which I know is not his favorite, but I think he's starting to get really into puppeteering. I'm excited to see where that leads. I'm usually working on directing music videos when I have time, although I guess that's still music related. And I like to imagine that Dave (keys/guitar) has some sort of secret warehouse where he fixes and re-sells very specific things like used Volvos and karate wood blocks. But that's probably not true.
TKF: The local bar wants to feature a Portage cocktail. What's in it?
Trent: Hamm's and Two Gingers whisky.
TKF: What's next for the band?
Trent: Sending out lots of CDs to labels, booking more regional shows, and trying to get more media attention and radio play. Onward and upward.