No Comments
Palette Town – Life, Love, & Laser Guns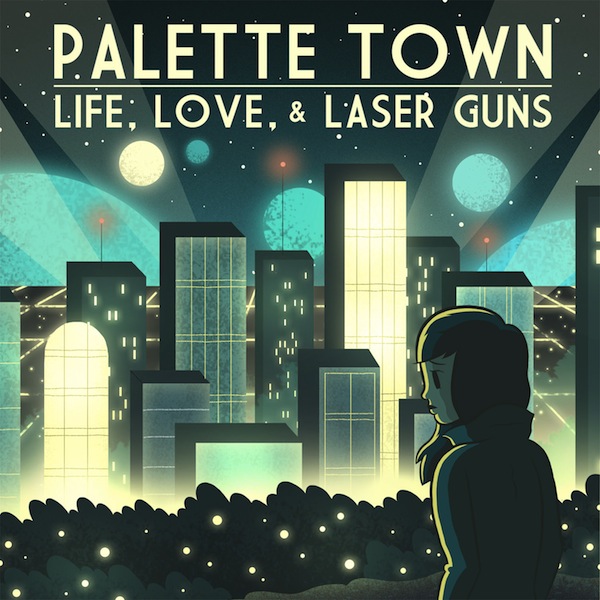 Browsing across the vast sea of releases, we came across a band that shares its name with a small settlement in Pokémon. The namesake of course being, Palette Town. The Miami "elite four"-piece has recently released a follow up to their self titled release last year. Life, Love, & Laser Guns is a fantastic sophomore effort that shows the band has a lot to offer.
Diving right into the EP, we are treated to an instrumental track, Panda's Thumb. The jazzy guitar style is nice and inviting. Following closely is From Hawaiiwhich shows you the full sound you can expect from the group.  Vocals from Chris DeSalle and Daniella Chamorro compliment to the already solid musical landscape. Overall, the album is full of catchy & dance laden beats that only seem to get better after a repeat listen. Pokémon references aside, you really should catch this album.
TheKnifeFight: Are there any other bands/artists that influenced you to become a musician yourself?
Palette Town: I (Fredrik) first decided to pick up a guitar after hearing the soundtrack for the anime Fooly Cooly, which was written by The Pillows.
TKF: When releasing new music, how difficult is it as a band to decide on album art and song titles?
PT: Typically whoever initiates the writing process for a song will already have a title in mind. However, it takes quite a bit more difficulty to find a compromise for album art. Our Live, Love, & Laser Guns EP had quite a few delays in its release due to disagreements on the art. Eventually we were all satisfied with what was released and are enterally grateful for all the positive reception we've received about the artwork and the EP as a whole.
TKF:  What would your starter Pokemon be? (Squirtle, Charmander, Bulbasaur)
PT: We're fire starters.
TKF: What's the music scene like in Miami?
PT: Like the Wild West, except… in the East.
TKF: What's next for the band?
PT: A full-length LP. We are currently recording demo tracks.