No Comments
Take One Car – It's Going to Be a Nice Day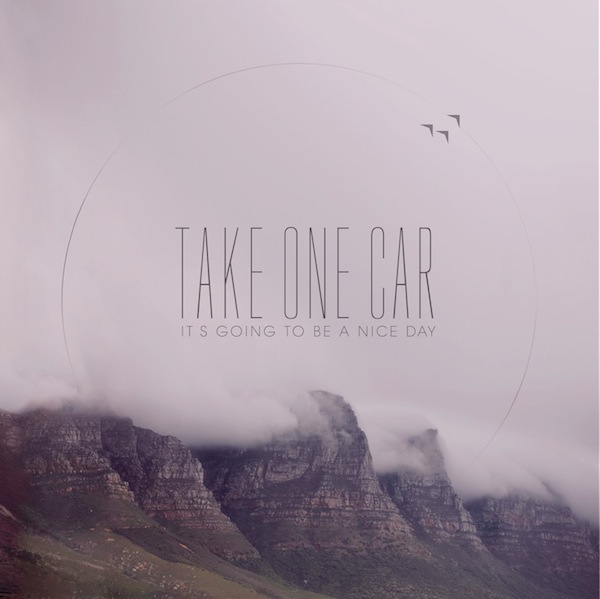 Hailing from upstate New York, Take One Car is breathing new life into the post-hardcore scene. With a highly potent mix of wailing guitars, spoken word vocals, and steadfast drums, this music carries a purpose.
The album, It's Going to Be a Nice Day, is full of refreshing musical arrangements. The band has carefully crafted a sound that is extremely catchy but also distinct. There are a lot of elements blended into this album. Metal like interludes melt into progressive rock then it takes an energetic sharp turn towards screams mellowed with poetic vocals. It's a lot of sound coming at you, but damn is it good! Listeners will find a very rewarding album that has a very high replay value.
Pete from Take One Car took some time to answer some questions!
TheKnifeFight: What bands/artists influenced you to become a musician yourself?
Take One Car: I would have to say bands like At The Drive-In, Blink 182, and Brand New. I am sure all three of those bands sound pretty cliche, but were it not for them, I doubt I would ever picked up a guitar.
TKF: Do you have a favorite song to perform live?
TOC: I would have to say our song 'Adrift'. It's just one of those songs that comes across well live and always seems to work. No matter how bad of performance we've had, I can always rely on that song to save it.
TKF: What do you enjoy doing when you're not making music?
TOC: Eating. I love trying new foods. I eat out at least once a day, which really puts a dent in my wallet. That is probably my favorite thing about touring too. I'm always excited to try local cuisine when we're in new cities.
TKF: You have a time machine and go back in time to tell your 12 year old self 1 thing. What do you say?
TOC: "Start playing the guitar now!" I had picked up the guitar when I was 12, but gave up on it. It wasn't until I was 15. that I actually picked it up again and really started playing.
TKF: What's next for the band?
TOC: We are currently gearing up for our August Tour which starts on the 17th. We're focusing heavily on the Northeast on this tour. The past couple have been trough the Midwest and Southeast, so it will be nice to play some dates closer to home.

Tour Dates:
08.17 – ALBANY, NY – JACK'S PLACE
08.18 – PITTSBURGH, PA – SMILING MOOSE
08.19 – OAKLYN, NJ – STUDIO LULOO
08.20 – PHILADELPHIA. PA – CONNIE'S RIC RAC
08.22 – AMITYVILLE, NY – BROADWAY BAR
08.23 – NEW HAVEN, CT – THE TACO HUT
08.24 – LOWELL, MA – THE ANT CELLAR
08.25 – BOSTON, MA – TBA- EVENT PAGE
08.26 – PORTLAND, ME – BAYSIDE BOWL
08.29 – DANBURY, CT – THE HEIRLOOM ARTS THEATER
08.30 – STORMVILLE, NY – COLLIN'S ALE HOUSE
08.31 – SYRACUSE, NY – THE CLARENDON
09.01 – ONEONTA, NY – ONEONTA STATE UNIVERSITY